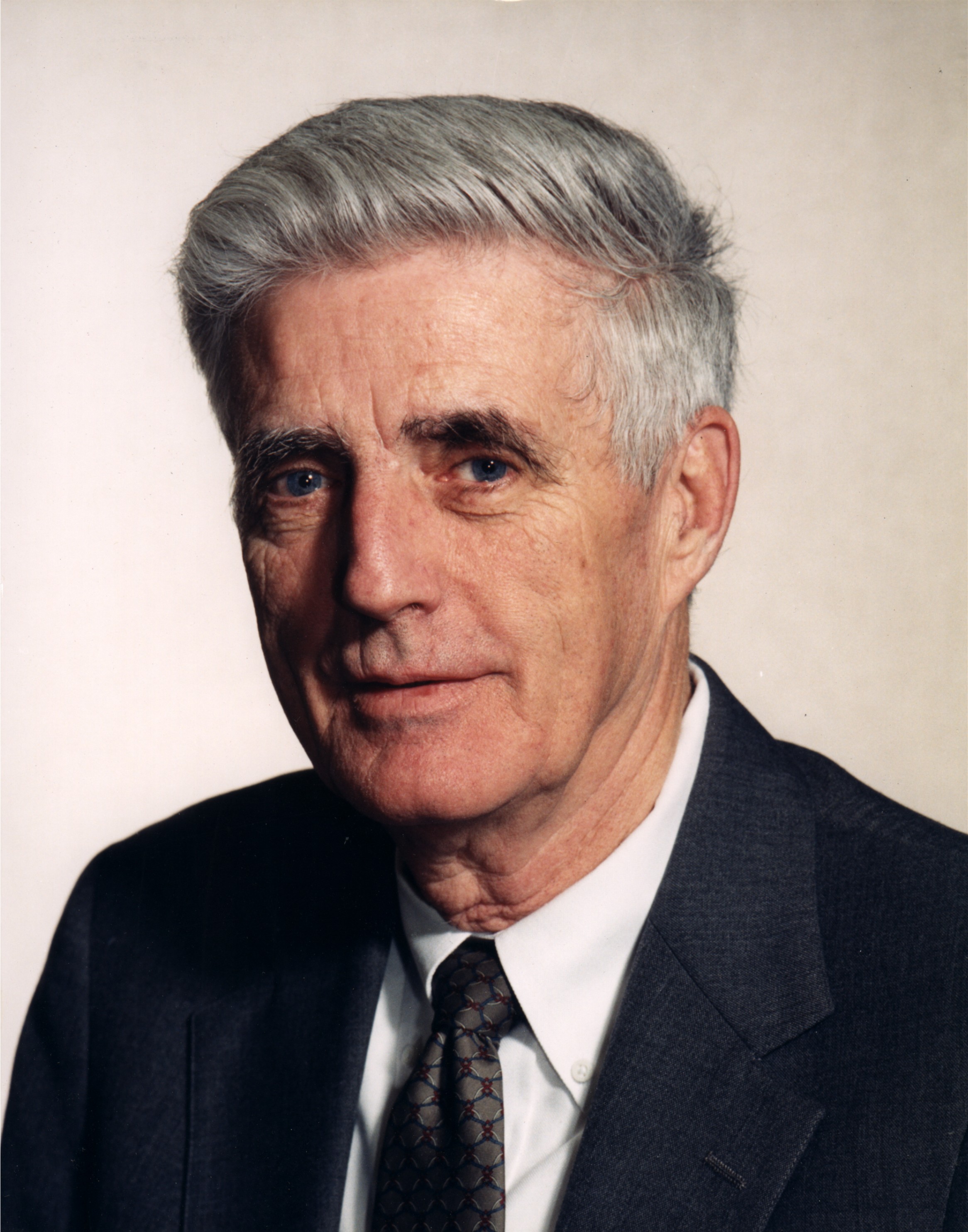 Dr. Walter B. LaBerge, former Vice President of Lockheed Corporation, Principal Deputy Under Secretary of Defense for Research & Development, Under Secretary of the Army, Assistant Secretary of the Air Force, Assistant Secretary General of NATO, noted Aerospace Research Scientist, World War II veteran and member of the National Academy of Engineering, passed away at the age of 80 on July 16, in Aptos, CA.
Dr. LaBerge was born in 1924 in Chicago, IL, the eldest child of a Fuller Brush Co. salesman. After graduating from the University of Notre Dame in 1944 with a degree in Naval Science, he served aboard the U.S. minesweeper YMS 165 in the Palau Islands and was promoted to Captain in 1946. Returning to Notre Dame after the war, he married Patricia Sammon of River Forest, IL and started a family.
After receiving his Ph.D. in Physics in 1950, Dr. LaBerge became a member of the original Sidewinder Air-to-Air missile development team at the Naval Ordinance Test Station in China Lake, CA. In 1956, he was voted to be one of the Five Outstanding Young Men of California by the California Chamber of Commerce.
In 1962, with the Philco-Ford Corporation, he headed the team that designed and installed the instrumentation at the Manned Spacecraft Center in Houston. In that role, he worked closely with NASA management and became a close friend of several of the original U.S. astronauts.
Dr. LaBerge returned to government service in 1971 as Technical Director of the Naval Ordinance Test Station in China Lake. His first Presidential Appointment came in 1974 as Assistant Secretary of the Air Force for Research and Development. In 1976, he served as Assistant Secretary of NATO for Defense Support in Brussels, Belgium. Returning to the Pentagon in 1977, Dr. LaBerge served as Under Secretary of the Army. His last government appointment was as Under Secretary of Defense for Research and Engineering in 1980.
In 1981, Dr. LaBerge joined the Lockheed Corporation in Sunnyvale, CA. He retired in 1989 as V.P. for Advanced Planning. Subsequently, he served as Chair of the Army Science Board and held various academic appointments. Recently, he served as Senior Research Scientist for the Institute of Advanced Technology at the University of Texas. Until just recently, he continued to consult as Visiting Professor of Physics at the Naval Postgraduate School in Monterey, CA.
Throughout his life, Dr. LaBerge maintained an avid interest in military history. His children fondly remember many trips to Revolutionary and Civil War battlefields. Also interested in genealogy, he traced the LaBerge family tree back to Robert de la berge, who was born in Colomby Sur Thaon, France and later settled near Quebec in 1658.
In his government positions, Dr. LaBerge was able to fly in many types of military aircraft. His greatest thrill, however, was riding in the SR-71A and getting to a speed of Mach 3.0 at 80,000 feet.
Dr. LaBerge passed away on July 16, 2004 at the age of 80 in Santa Cruz, CA.